Bathroom Remodeling
Our company has been in the remodeling industry for years, making us experts in the various aspects of home improvement and construction. We also offer our professional services at affordable rates so we can let clients experience the quality service that we are known for in Ohio. Moreover, the increasing number of our successful bathroom remodeling projects has helped us become popular in Columbus and nearby areas.
If you want to experience a hassle-free property improvement project, please call us. At Zofkie Remodeling Group, we have the expertise and the needed resources to successfully complete any kind of bathroom remodeling project, big or small. You can call us at 614-861-6500 or drop by at our office so we can discuss your ideas and plans.
The Perfect Design and Theme for Your Bathroom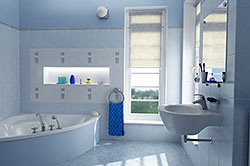 At Zofkie Remodeling Group, we have creative designers who can work on any design or theme that you want. Some of the bathroom themes that we can work on include traditional, modern, and country styles. We will also ensure that there is harmony of all fixtures and amenities inside your bathroom - from color combinations to the overall layout of the area. With our well-thought-out design, you will surely get the kind of bathroom that you've been dreaming of.
Simple or Total Bathroom Makeover
You can hire us for simple bathroom improvements or get our comprehensive services if you are aiming for a total bathroom makeover. The great thing about us is that we can work according to your financial capabilities. If you have a limited budget, we can just prioritize certain areas in your bathroom so you can still improve its look and functionality.
It is also our goal to build long lasting relationship with our valued clients. We do this by collaborating with them during the entire duration of the project. From conceptualization to the actual installation of the bathroom features and amenities, we see to it that their needs and preferences are incorporated in the project.
Some Amazing Bathroom Additions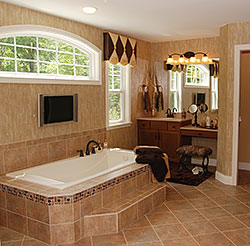 We always perform careful planning when working on a bathroom remodeling project. Aside from creating unique and stunning designs, we also consider the functionality of the various features and amenities that we may add or install. In addition, we use only the finest materials that we source from trusted suppliers. Rest assured that we'll only install premium quality bathtubs and spa, stainless steel faucets and showers, hardwood for cabinetry, first-class lighting, and durable accessories.
Meanwhile, some of our recommended bathroom additions include:
Vanity mirrors
Bathtubs and spas
New cabinetry
Modern lighting fixtures
New floor and wall tiles
Designer sinks
Hire an Experienced Kitchen Remodeling Company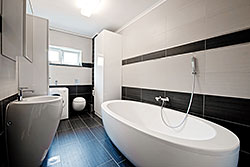 Trusting in inexperienced bathroom remodeling company will result in costly problems and poorly done installation. So if you want a worry-free home improvement project, hire Zofkie Remodeling Group today. With us, you are assured that the crews working on your property are real professionals and experts in what they do.
You can talk to one of our bathroom remodeling experts now by calling us at 614-861-6500.