Bathroom Remodels Powell, OH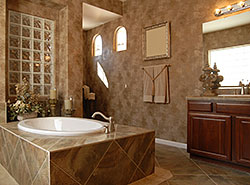 Zofkie Remodeling Group is the right company to choose for all concerns about bathroom remodels. Over the years, our firm has completed some pretty tough and challenging bathroom remodeling tasks in Powell, Upper Arlington, and Columbus, and we have established a solid following in these areas and beyond. With professional services rendered with a conscious effort to satisfy clients' needs and desires, we have made the Zofkie name synonymous with excellent work quality at reasonable rates.
Please call us soon so we can breathe a new life into your existing bathrooms.
Remodel Your Baths on a Budget
If you'll hire other contractor to remodel your bathrooms, you may not expect to pay low rates. But with us, you can expect bathroom remodels that fit your budget the same way our past clients have enjoyed.
As it is, such remodeling project should not discourage homeowners since there are cost-efficient ways to remodel a bathroom. Our company knows a lot of techniques to make bathrooms larger, safer, and more inviting without spending a lot that inevitably takes its toll on our clients' budget. But even if we resort to cost-effective means to remodel baths, we don't necessarily cut corners in terms of materials used but make sure that we only use high quality supplies possible.
Great Bathroom Remodeling Ideas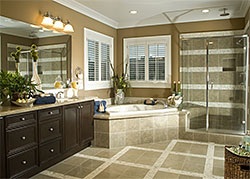 There are so many ways on how we can dramatically improve the functionality and aesthetics of your bathrooms. As we've done with past bathroom remodels for clients in Powell, OH and nearby cities, we can add specific amenities or new features that include:
Jacuzzi
Piped-in music
Glass-sliding shower cubicles
Vanity mirrors
Custom cabinetry for toiletries and medicines
Spas and bathtubs
Specialty lighting
We can add or install other amenities aside from these mentioned. Just let us know about your desired amenities, and we'll gladly oblige by installing them for you.
Only the Finest Quality Bathroom Fixtures and Accessories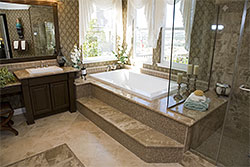 As we've said, we only use the highest quality fixtures and accessories when we handle bathroom remodels. From floor tiles to wall fixtures and new installations like spas, vanities, cabinetry, and countertops, you can be sure that we won't use inferior quality products.
We have partnerships with suppliers that let us source common and hard-to-find bathroom fixtures and add-ons. This setup has proven to be beneficial not only to us but also to our clients who have unusual requests and preferences. Rest assured that we will go the extra mile just to ensure that we'll fully comply with your bathroom remodeling needs.
Outstanding Bathroom Remodels
Our company has always been the company of choice for Powell clients who demand only the best. With us, you can look forward to bathroom remodels that will meet your needs and desired features. Whether you just want to improve your baths' layout and aesthetics or you want to incorporate some safety features and add great functionalities, we'll have your desires covered.
If you wish to ask for a project cost estimate, we'll provide it for you for free. We'll also be happy to discuss your remodeling ideas so we can suggest ways on how we can realize them. Please call (614) 861-6500.