Kitchen Remodeling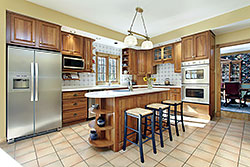 Any kitchen remodeling project needs creative designers and skilled artisans who are experienced in home improvement projects. And if you're from Columbus and other parts of Ohio, Zofkie Remodeling Group is the right company to hire.
We are composed of experienced and creative people who can work on all kitchen improvement tasks. Our team has created kitchens with perfectly blended shapes, textures, and colors for countless property owners in Ohio.
Our creative designers will work closely with you so we can create just the perfect kitchen remodeling plan that matches with your personal desires. Meanwhile, our installers are experts in bringing that design to life. With us, you can have a brand new kitchen that's durable, functional, and aesthetically appealing.
Our Kitchen Remodeling Suggestions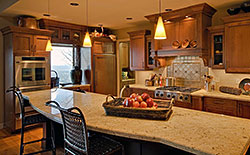 Kitchen remodeling can be a simple or a full-scale home improvement project. You have the option to take one project at a time or choose a full kitchen remodel. Here are some of our highly recommend remodeling tasks that can change the look and functionality of your kitchen:
Cabinet replacement. The first thing we often see in a kitchen is the cabinet. Therefore, it can make or break the look and feel of the entire kitchen. This is one of the reasons why it's one of our priorities when working on a kitchen remodeling project. It can be upgraded or replaced depending on the quality of the existing one and your future plans for the area. We can install new ones or replace your old cabinets to make your kitchen clutter-free. We have the right type of cabinet for your kitchen utensils, cutlery, and other kitchen appliances.


New floor installation. Your kitchen floor must be in good condition to avoid slip and fall accidents. Its design must also complement with other kitchen features. If you feel that your kitchen floor needs a makeover, please call us. We can replace your floor tiles with more durable and attractive tiles. Your options include ceramic and natural stones like granite and marble.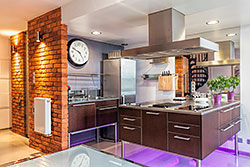 Custom countertop installation. Countertops are considered as focal points in the kitchen since you spend a lot time in these areas. We can add custom made countertops made of granite, marble, ceramic, or other material that you prefer. Rest assured that the countertops that we will install for you are durable and stylish.


Installing new kitchen lighting. This is not as simple as changing your old lighting fixtures. At Zofkie Remodeling Group, we will install various task lighting to ensure that your working area is properly illuminated. You can choose from our modern and classic lighting fixtures to create the kind of appeal that you want for your kitchen.


We Help You Achieve Your Dream Kitchen
We can also add other features and amenities to make your kitchen more functional, safer, and more attractive. Our team is always updated on the latest trends in kitchen remodeling, so you are assured of a greatly improved kitchen area once we're done with your project. With highly skilled personnel and access to premium materials, we can help you achieve your dream kitchen.
Call us at (614) 861-6500 for free estimate and consultation.